Nestled in a garden just steps away from one of the most beautiful beaches in the world, your Spicebush vacation home is an original piece of the Hilton Head Island vision. The founders placed it right here for your pleasure.
As good stewards of that vision people have worked hard to make sure your time here is as fine as your fondest dream. Time of your own, with ocean, golf, heated pool, tennis – and just breathing the balmy, sub-tropical air. The name was as well chosen as the site, because we find ourselves floating at a whim from one beautiful diversion to another. Like the Spicebush butterfly.
The master planners of Spicebush envisioned your villa with two spacious bedrooms aligned for privacy, an open and hospitable living room and dining room with high vaulted ceilings that use natural light to amplify the feeling of roominess. In the living room there's a fold-out sofa for friends and family. Family times go well, too, at the picnic and grill area with its cozy gas firepit.
All this picture needs is you. Your clubs, your racquet, your swimsuit. Or just your dreams. We can't wait to welcome you.
In the heart of Sea Pines Plantation, Spicebush at Sea Pines sits just a few steps away from the Davis Love III Atlantic Dunes golf course, less than a half-mile from the Sea Pines Beach Club, which is open to all Spicebush residents and guests, and a little more than a mile from Harbour Town. All around Spicebush at Sea Pines, the prestigious Sea Pines Resort carries on the original vision of Hilton Head Island with more than $50 million in new investment and a commitment to five-star vacation experiences.
Harbour Town Lighthouse
Visit the Harbour Town Lighthouse and Museum and climb the 114 steps to the top for the most magnificent view of Harbour Town, Calibogue Sound, and Sea Pines that you'll ever see.
Pristine Beaches
The Sea Pines Beach Club is just a quarter-mile away and is accessible by car, bike, and trolley. For an entirely different experience, Coligny Beach is a short three-mile drive away and offers beach volleyball and more.
The Shops at Harbour Town
Stroll through the many shops at Harbour Town, less than a mile and a half from Spicebush, or just relax on one of the many rocking chairs and watch the people – and the day – go by.
South Beach Marina
Home of the Salty Dog Café and numerous other restaurants and shops, the South Beach Marina is a short three-mile trek from Spicebush. With an open-air bar, live music, and the iconic Salty Dog T-Shirt Shop, this is a local favorite.
Spicebush at Sea Pines
Truly, Spicebush at Sea Pines is nothing short of a dream. With so much to see and do – most within a mile or two of the property – staying active is not a struggle. But for those times that you just want to unwind, a lazy day at Spicebush is okay, too.
The Harbour Town Pier
Kayaking, paddle boarding, parasailing, jet skiing, and boat rental are all available at the Harbour Town Pier. Or spend a leisurely afternoon crabbing, dolphin watching, or just soaking up the sun.
Explore the Island
There's so much to explore withing a mile or two radius of Spicebush that you might never need to get in your car. Whether on bike, foot, or trolley, you have so much to see and do within a few minutes of your villa.
Enjoy an Afternoon Cocktail
The nearby choices are many. Truffles Café is a half-mile from Spicebush. Just down the road in Harbour Town is The Quarterdeck, with its incredible view of Calibogue Sound. Or take a five-minute walk to the Sea Pines Beach Club, which has several options overlooking the Atlantic Ocean.
Harbour Town Yacht Basin
Take a walk along the Harbour Town Yacht Basin, a short three-minute drive from Spicebush, and marvel at the yachts docked there. With a number of boutique shops and several places to dine, this is a must-do on everyone's itinerary.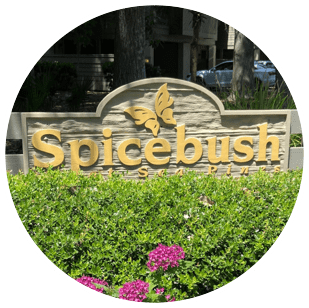 "Stayed in Spicebush twice now and must say it is a real hidden gem. I love the private tennis court on site and the large heated pool. Multi-level with master bedroom on the third floor. Private covered parking, and it is like living in your own home. Just off the Sea Pines bike path."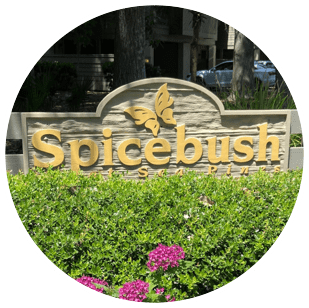 "Love staying at Spicebush. It's a wonderful townhouse to stay in and always clean."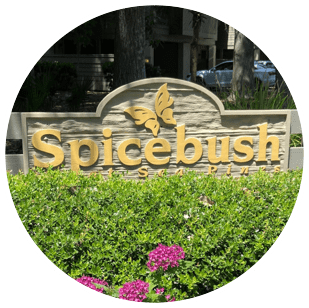 "This is a very special place, much like your own well-kept second home and sort of a secret. Located in private Sea Pines (non owners/renters must pay to enter Sea Pines) with miles of walking and bicycle paths, ponds, alligators, forest preserve, golf courses and marinas, and dolphin sighting trips."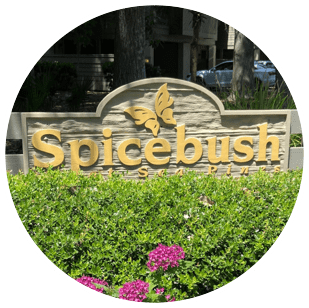 "Roomy 2-bedroom, 2-bath. 4 levels with carport. Back deck with lagoon view. Nice washer and dryer, fully stocked kitchen. Really nice pool area. Bike ride to beach club."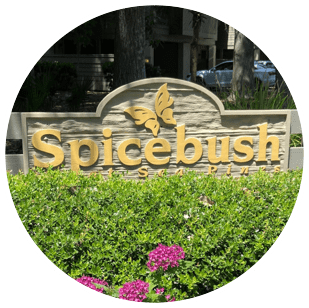 "It was perfectly nice, with a great lagoon view, and a nice swimming pool that I had to myself the one day I went down there. A short bike ride to the Beach Club. I wouldn't hesitate to stay there again."