The original vision of a tasteful, world-class getaway is here in every detail – and within a stroll or a short bike ride.
Golfers are just a stone's throw from the No. 1 tees at the Pete Dye Heron Point and the Davis Love III Atlantic Dunes golf courses, with 30 other courses in the area.
Beach lovers wile away the hours amid the island breezes on sands that have often appeared among the world's top 10.
Shopping is just down Lighthouse Road in The Shops at Sea Pines Center, where you'll find everything from fine food and beverages to clothing and jewelry to a weekly farmers' market.
Art lovers find a gallery right there. And just down the road, Morris & Whitesides is in the famous Red Piano Gallery space, site of the Lowcountry's first fine art collection. Just the beginning of a big-city art and theater experience nestled in the heart of nature.
The Sea Pines Forest Preserve gives outdoor lovers an even deeper immersion into the world of rare birds, fish, lush landscapes and plants we don't see at home.
Family fun moves on to Lawton Stables, where horses and ponies greet the young and not-so-young; the equestrian and the trail-rider.
And it's all knit together with roving hiking/biking trails that meander gently through the shade. For those who prefer a lift, the Sea Pines Trolley (seasonal) stop is just around the corner from your Spicebush oasis.
To get a taste of all that Spicebush has to offer, just mouse over any of the images below to learn more about what awaits you on your next vacation. All of these featured activities are within three miles of Spicebush and the majority are less than a mile away.
The Harbour Town Pier
Kayaking, paddle boarding, parasailing, jet skiing, and boat rental are all available at the Harbour Town Pier. Or spend a leisurely afternoon crabbing, dolphin watching, or just soaking up the sun.
Pristine Beaches
The Sea Pines Beach Club is just a quarter-mile away and is accessible by car, bike, and trolley. For an entirely different experience, Coligny Beach is a short three-mile drive away and offers beach volleyball and more.
30+ Golf Courses
Although three of Hilton Head Island's top golf courses are withing a mile of Spicebush – the Harbour Town Golf Links, Atlantic Dunes, and Heron Point – 30 other courses await your selection nearby.
Sea Shell Hunting
Spend some time walking the Sea Pines beaches in search of sea shells. You're likely to find everything from starfishes to sand dollars along the several miles of white sand beaches.
The Shops at Sea Pines Center
Just down the street from Spicebush is The Shops at Sea Pines Center, the island's premier destination for shopping, dining, art, massage, and more. With 10 shops, four restaurants, and a dozen other services, there is something here for everyone.
Massage
If you just need some "you" time, then schedule a massage at Le Spa, which is a two-minute drive from Spicebush in The Shops at Sea Pines Center.
Sea Pines Farmers' Market
Visit the Sea Pines Farmers' Market every Tuesday from 10 a.m. to 2 p.m. for the best in local produce and artisan goods. The market is in season from March through November a half-mile from Spicebush.
Parasailing
Takes to the skies with a parasailing adventure over Calibogue Sound. Parasailing excursions are available at Harbour Town, which is less than a mile and a half away from Spicebush.
Lawton Stables
Lawton Stables is roughly a mile from Spicebush and offers horseback riding through trails, forests, and lakes in more than 600 lush acres of the Sea Pines Forest Preserve. Take a trail ride or just stop by to pet the horses.
The Shops at Harbour Town
Stroll through the many shops at Harbour Town, less than a mile and a half from Spicebush, or just relax on one of the many rocking chairs and watch the people – and the day – go by.
Truffles Café
Located a half-mile from Spicebush in The Shops at Sea Pines Center is Truffles Café, considered one of the top restaurants on the island. From French onion soup to coconut shrimp to grilled salmon to baby back ribs, their menu is sure to please.
Dolphin Watching
Calibogue Sound is one of the great places to catch a dolphin or two – or 20 – frolicking in the surf. Dolphin-watching excursions sail out of Harbour Town marina and South Beach marina daily.
Sea Pines Forest Preserve
Take an easy walk or ride through a maritime forest and marshland. The preserve – which is about two miles from Spicebush – has a 4,000-year-old Indian shell ring, a wildflower meadow with dozens of varieties, and a bountiful bird habitat.
Explore the Island
There's so much to explore withing a mile or two radius of Spicebush that you might never need to get in your car. Whether on bike, foot, or trolley, you have so much to see and do within a few minutes of your villa.
The Artists of Sea Pines
The Artists of Sea Pines is a group of more than 40 local artists. Visit their gallery just around the corner from Spicebush at The Shops at Sea Pines Center. All artwork if available for sale.
Kayaking
Rent a kayak at Harbour Town and explore the waters of Calibogue Sound, venturing up Heddy Gutter Creek for a little bit of solitude. Or head over to South Beach Marina for an entirely different kayaking adventure.
Biking
There's no better way to explore the island's 14 miles of beaches and 104 miles of paved paths than on a bicycle, and with the Peddling Pelican bike rental a half-mile from Spicebush, renting a bike has never been easier.
Stoney-Baynard Ruins
About a mile and a half from Spicebush is the Stoney-Baynard Ruins, originally built by Captain Jack Stoney in the 1790s. The Baynard house was once a grand antebellum plantation house overlooking the Calibogue Sound.
Harbour Town Lighthouse
Visit the Harbour Town Lighthouse and Museum and climb the 114 steps to the top for the most magnificent view of Harbour Town, Calibogue Sound, and Sea Pines that you'll ever see.
Spicebush at Sea Pines
Truly, Spicebush at Sea Pines is in the center of it all. With so much to see and do – most within a mile or two of the property – staying active is not a struggle. But for those times that you just want to unwind, a lazy day at Spicebush is okay, too.
Sea Pines Beach Club
The Sea Pines Beach Club, which is a quarter-mile from Spicebush, is a premier, five-star facility that includes indoor and outdoor dining, an open air bar, changing areas, and, of course, a pristine Atlantic Ocean beach.
Giuseppi's Pizza
Sometimes you just need a lazy day that includes some really good pizza. Giuseppi's is the island's original pizza joint and has served more than 756,000 pizzas over the last 30 years. Even better, they are just around the corner from Spicebush.
Jet Skiing
What's more fun than jet skiing? Likely nothing. Rent a jet ski – or two – right at Harbour Town, which is just a short drive away, and find yourself zipping across the waters of Calibogue Sound.
Fishing
Whether surf fishing from one of Hilton Head Island's many beaches or trying your luck on Lake Joe – which is teeming with bass, catfish, crappie, and bream – there's no shortage of fishing spots withing a mile or two of Spicebush.
Shopping
Some of the best shopping on the island is a half-mile from Spicebush at The Shops at Sea Pines Center, featuring Palmettoes; Forsythe Jewelers; Pyramids; The Back Door; The VIVID Gallery; By Hand, Ink; and more.
South Beach Marina
Home of the Salty Dog Café and numerous other restaurants and shops, the South Beach Marina is a short three-mile trek from Spicebush. With an open-air bar, live music, and the iconic Salty Dog T-Shirt Shop, this is a local favorite.
Gregg Russell Playground
Looking for some place to take the kids and grandkids? Right in the heart of Harbour Town sits the Gregg Russell Playground, which has a variety of activities that will keep the little ones busy for hours.
C'est Bon
Just want to relax over a cup of coffee and homemade danish? Then take the half-mile drive from Spicebush to C'est Bon, considered by the locals to be the best coffee shop in the island.
Daufuskie Island
Just a mile across Calibogue Sound from Harbour Town sits Daufuskie Island, accessible only by boat and steeped in a simpler time. It is the perfect day-trip destination to step back in time and unplug from the everyday.
Wildflower Meadow
Visit the wildflower meadow inside the Sea Pines Forest Preserve, which is planted yearly with a custom mix of 14 wildflower species. Take time to smell the wildflowers as you enjoy your journey along the trail.
Tennis
A mile or so from Spicebush is the Sea Pines Racquet Club, which offers 20 clay courts – including 4 lit courts – as well as a full range of programs and instruction for both adults and juniors.
Plantation Club
Less than a quarter-mile from Spicebush is the Plantation Club, home to the Atlantic Dunes and Heron Point golf courses, as well as Fraser's Tavern, which serves a wide variety of dishes and a nice selection of craft beer.
Boating
Just about any type of boat can be rented at both Harbour Town and South Beach, from pontoon boats  that can seat 10 comfortably to sporty bow riders to two-seater catamarans.
Harbour Town Bakery & Cafe
Nestled near the entrance to Harbour Town is the Harbour Town Bakery and Cafe, which has long been one of the favorite breakfast and lunch spots for residents and visitors alike.
Swimming
With some of the best beaches on the east coast, Sea Pines offers a great ocean venue for beach and swim enthusiasts. Boogie boarding, kite surfing, and just relaxing on a float are all beach favorites.
Harbour Town Yacht Basin
Take a walk along the Harbour Town Yacht Basin, a short three-minute drive from Spicebush, and marvel at the yachts docked there. With a number of boutique shops and several places to dine, this is a must-do on everyone's itinerary.
Lowcountry Produce
About a half-mile from Spicebush is Lowcountry Produce, an eclectic shop that serves farm-to-table breakfast and lunch, offers a smoothie and juice bar, and is stocked with local goodies, including jams, salsas, and art by local artists.
Sea Pines Resort Fitness Center
For those who still want a heart-pumping workout while they're away from home, the Sea Pines Resort Fitness Center offers state-of-the-art equipment just around the corner from Spicebush. Day passes are available.
Enjoy an Afternoon Cocktail
The nearby choices are many. Truffles Café is a half-mile from Spicebush. A bit farther down the road in Harbour Town is The Quarterdeck, with its incredible view of Calibogue Sound. A quarter-mile away is the Sea Pines Beach Club, with several options overlooking the Atlantic Ocean.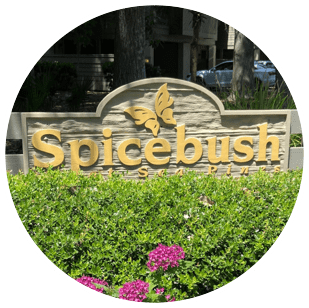 "Roomy 2-bedroom, 2-bath. 4 levels with carport. Back deck with lagoon view. Nice washer and dryer, fully stocked kitchen. Really nice pool area. Bike ride to beach club."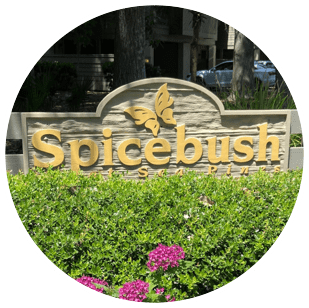 "Love staying at Spicebush. It's a wonderful townhouse to stay in and always clean."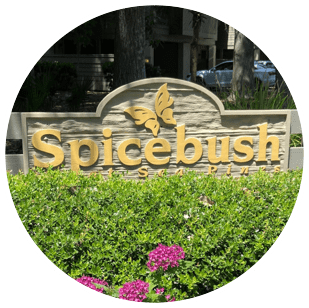 "It was perfectly nice, with a great lagoon view, and a nice swimming pool that I had to myself the one day I went down there. A short bike ride to the Beach Club. I wouldn't hesitate to stay there again."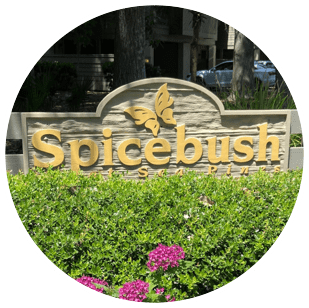 "This is a very special place, much like your own well-kept second home and sort of a secret. Located in private Sea Pines (non owners/renters must pay to enter Sea Pines) with miles of walking and bicycle paths, ponds, alligators, forest preserve, golf courses and marinas, and dolphin sighting trips."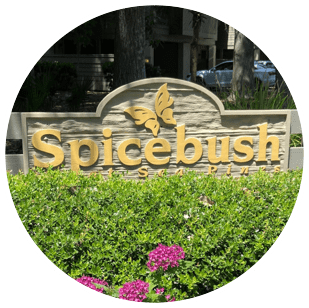 "Stayed in Spicebush twice now and must say it is a real hidden gem. I love the private tennis court on site and the large heated pool. Multi-level with master bedroom on the third floor. Private covered parking, and it is like living in your own home. Just off the Sea Pines bike path."